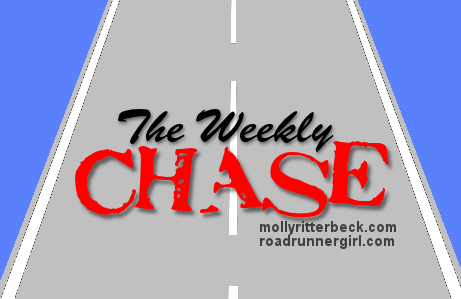 Weekly goals for April 28–May 4; recap
Goal #1 - Finish updating my race spreadsheet.
Done.
Goal #2 - I REALLY want to get a PR in my half marathon on Sunday. My nerves always seem to get in my way, and I end up walking more than I'd like. I really want to stick to my run/walk intervals, which has gone well for my races this year, and (hoping) for at least a 14:30 pace. My fastest half so far is a 3:18:52 (slow, I know, I know), so really, I'll be happy with anything under that. Goal A is 3:05, Goal B is 3:10 and Goal C is 3:15. Fingers crossed for good running weather (read: cloudy, low 50s), and a good body/breathing feeling kind of day.
I DID IT! My official time was 3:03:42, so I did even better than I imagined I could/would. I am really proud of myself for knocking so much time off of my fastest time (from a half last September). I know compared to most people that is still really slow, but I try not to compare myself to anyone but me from past races, and I whooped past Heather's butt ;) I did really well the first 6 miles, then ended up doing a bit more walking due to some hip and stomach issues the second half, but it is what it is. I'm not too mad, since I still finished at a better-than-goal time. I'll have a race recap up on the blog (hopefully) by the end of the week.
Goal #3 - Catch up on my blog reading. I have about 600 posts in my Bloglovin feed... I'd really like to get that number WAY down. It makes it hard when everyone is so consistent with their posts, and more and more just keep getting added ;) I'm gonna try really hard to get that to 300 (or lower?!) by next Monday, and then I'll have to be better at keeping up with it. Some of you may notice that I comment on a post a week or two after it's been posted. That's because I'm so far behind! Sorry, ya'll.
Finally catching up, but still a bit behind on a few. For what I set out to do, I would say this goal was accomplished.
Weekly goals for May 5–11
Goal #1 - Log all of my food/calories on MyFitnessPal. Not specifically to stay under my calories every day, but just to get back into the habit of doing it every day. Eventually the goal will be to stay under my daily allotted calories, but one step at a time, people ;)
Goal #2 - Get the house cleaned up for when the family comes over to celebrate Mother's Day on Saturday (clean bathrooms, wash floors, clean off kitchen and dining room tables, vacuum, etc.)
Goal #3 - Start reading a new book. I love reading, but sometimes, I get out of the habit because I'm spending my time watching tv instead. I usually get most of my reading done on my commute to and from work, but sometimes I get into streaming missed tv shows on Hulu, which stunts my reading. Sometimes, I think it's ok to stream, but I shouldn't be doing it both ways for an entire week. Plus, when I start a book that's good, I get really involved and invested and have trouble putting it down. All it really takes is for me to start and get a few chapters in. I recently finished the second book (out of six) in the Kenzie-Gennaro novel series by Dennis Lehane, so I'd like to keep that going and finish up the series. I'd read Gone, Baby, Gone a while back, but plan on re-reading it in the order the books were written. I honestly was unaware that it was part of a series when I read it, I had just wanted to read it before watching the movie. I feel like you can read each of the books on their own without having read any of the others, in any order (as I read Gone, Baby, Gone without any issues), and still understand everything, but I enjoy reading series in the order they were written.
What are you goals for the week? Have you read any of Dennis Lehane's books? Any book or author recommendations for me?